Are you an official PMI – ATP (Authorized Training Partner)?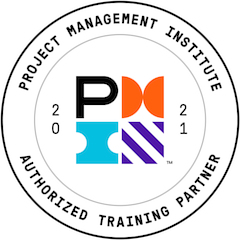 Yes. PM Council, Inc is a Premier member of Project Management Institute's (PMI) Authorized Training Partner (ATP) program. PMI ATP status is awarded to only established, high-quality, financially-sound project management education providers who are aligned to PMI core values, have mature business practices and offer courses aligned to the PMI Talent Triangle®. Training organizations that carry the PMI ATP Program Logo are a reflection of PMI and thus must undergo an extensive evaluation of their companies in order to be admitted to the Program. PMI's Registered Education Provider (R.E.P.) program was replaced by the ATP program in 2021.
Does your course satisfy the 35 contact hours required to sit for the exam?
Yes, our PMP course is approved by PMI for the 35 contact hours (aka PDUs) required to sit for the PMP exam. We provide you with a certificate of completion at the end of the course
What form of payment do you accept?
We accept all major credit cards (Visa, MasterCard, American Express and Discover).  
Will I receive a certificate upon completing the course?
Yes, you will receive a certificate of completion showing that you completed the course and earned the 35 contact hours required to sit for the exam. We provide you with a PDF download of the certificate on the last day of class.
Are exam fees included in the tuition?
Exam fees are not included. They must be paid directly to PMI as part of the application process. The cost to take the PMP exam is $544 total ($139 to join PMI and $405 for the exam fees). You can pay for the exam without joining PMI, at a cost of $555.  The $300 for non-PMI members and $225 for PMI members. 
When do I receive my course materials?
You can access the online exam prep training student portal immediately upon registration. All other electronic training materials are provided in the classroom.
Can I re-schedule my class?
Yes, you may re-schedule your course as many times as you like at no charge. You can re-schedule your course by contacting us. 
What is the latest date that I can sign up for the class?
You can sign up for the course up until the day before class begins. However, we have limited seating capacity and many of our courses fill up well in advance. Therefore, we advise students to register at least a few weeks before the class begins.
Where is the class located?
As we continue to practice COVID-19, guidelines, all of our Course locations are live online.
How many students are in each class?
Class sizes vary by date, but the average class size is 10 to 15 students. 
How does the "pass  guarantee" work?
Please review our PMP Exam Pass Guarantee   policy.
How soon after the course should I take the exam?
Typically, students take the exam around ten days after the course. Plan to spend some time studying after class to make sure you are ready. We provide you with a lot of resources to help you prepare. Therefore, set aside time after class to utilize these tools. We also provide metrics along with our practice tests to help you know when you are ready.  
Where do I take the exam?
The CAPM/PMP exams are administered at Prometric testing centers. Prometric has hundreds of centers worldwide and usually offers the CAPM/ PMP exams Monday through Saturday. Since each center is independently operated, you should check with your local center for hours of operation and exam availability. You can locate the centers nearest you by visiting www.prometric.com.Due to COVID-19, remote exams are provided as well.